The Kingdom at Work in Small-Town America
Toombs County, Georgia—including sister cities Vidalia and Lyons—epitomizes small-town America. With a total population of just over 25,000, it's a place where everyone knows everyone. While the community is close-knit, industrious, and highly religious, there is also division. There is a different church from a different denomination seemingly on every street corner. The middle class is disappearing, and there's a growing gap between the "haves†and the "have-nots.â€
Vidalia and Lyons experience many of the challenges common to rural American communities. People become isolated from the job market and important resources like healthcare. Lack of financial literacy is prevalent, and people often become trapped by title pawn and predatory lending schemes. Without public transportation, it can be difficult to get to and from work. Vulnerable people in Toombs County can quickly become debilitated and disheartened.
Born and raised in Vidalia into a low-income family, Clint Hutcheson is deeply invested in the well-being of his town and has a special heart for the vulnerable. He is the son of a pastor and took on the role of pastoring his local church as a young man when his father passed away. As his faith grew, though, Clint realized he wanted to do more to connect with the needs of his community directly and put that faith into action.
Clint began volunteering at Mercy Ministries in 2011, at that time a two-year-old faith-based health clinic for low-income residents of Vidalia and Lyons. He would sit with patients in the waiting room at Mercy Ministries and "just treat people like people†by talking, reading scripture, and praying with them. Over time he built relationships with the patients and the leadership of the ministry, who eventually offered him a staff position in 2013.
Reaching the Whole Person
Over the next few years, the ministry expanded to a new, permanent facility. It began to offer free medical care for individuals at 200% of the poverty line who are uninsured and suffering chronic illnesses.
However, Clint noticed that their patients were experiencing pressing needs beyond their health. Many were unemployed, struggling financially, disconnected from the community, and suffering from dependency and a lack of self-worth.
Clint realized the ministry had a greater responsibility to their community beyond addressing physical health. He knew the organization needed to expand to incorporate the needs of the whole person.
In an attempt to address these needs, Mercy Ministries began offering a wide range of services, from fixing people's cars to giving away donated clothes to helping people find housing. Clint began to experience burnout and isolation in his efforts. He became overwhelmed and discouraged by the amount of work he saw that needed to be done. That's when he read When Helping Hurts.
"Reading When Helping Hurts was a paradigm shift in the way we were thinking about ministry,†Clint says. He realized that he had taken on too much personal responsibility for the well-being of others. Do things for other people had become part of his identity.
After connecting with the Chalmers Center through the book, Clint heard about Faith & Finances, a financial education ministry designed to address the unique challenges of low-income people in the U.S. He knew it was what Mercy Ministries needed.
He attended the very first Faith & Finances training in 2013 and started facilitating classes at the ministry the next Spring. Clint gained a new resource to use in his organization and connected with a community of like-minded, like-hearted people. He developed a support network made up of other Christians working in ministry who were struggling through the same issues across the country.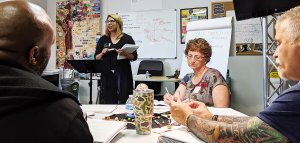 Clint created, and now directs, a branch of Mercy Ministries called Mercy University, which currently offers six Faith & Finances classes a year. They also other courses that integrate the development of the whole person, including Work Life, the Chalmers Center's job-preparedness ministry designed for people from backgrounds of generational poverty.
Mercy Ministries has narrowed its focus offering medical services and these courses so that it can excel in these areas. They now direct community members who have other pressing needs to a growing network of partner churches and other organizations Toombs County.
Relearning Stewardship
Mercy University welcomes community members from all socioeconomic backgrounds to participate. It especially emphasizes the importance of connection to and support from local churches through such participation. Charles and Rebekah Yawn are an example of this principle in practice.
Charles and Rebekah have been married for thirty-two years. They heard about the Faith & Finances class held at Mercy Ministries through their church. After some time, the two felt they were being called to join the class. They were not in a financial emergency but had a significant amount of debt. They wanted to be able to help family and church members who were in need and bless their three daughters and three grandchildren with their finances but could not do so.
"The feeling of having debt is always staring you in the face,†says Charles. "It's a burden that weighs heavily on your heart and mind. It will beat you down. I wanted that beat-down feeling to be gone.â€
In the Faith & Finances class, Charles and Rebekah got to benefit from the experiences and perspectives of their fellow participants. They learned how to track where they were spending their money and start reining in unnecessary costs. They discovered that better interest rates were available to them. They started sitting down together weekly to talk about where they wanted to put their money. As Charles and Rebekah began paying off their debt using new practices they learned in Faith & Finances, they realized that finances were much more straightforward and manageable than they ever thought.
Charles and Rebekah are experiencing a new kind of freedom now. They can steward the money the Lord has given them for the benefit of others instead of being burdened by it. "The most important thing in our lives is family. If you're working all the time, you miss out on a lot of things with your family,†Charles says. "We learned how to get a better grip on our finances so we can enjoy our time more and do other things with our money besides paying bills.â€
Discovering Existing Resources
Over the years of Mercy Ministries' development, the Lord has been using Clint Hutcheson to empower members of his community like Charles and Rebekah to address the challenges they face. The Chalmers material has taught him to see ministry through a Kingdom mindset––everyone has something to offer, and every community has the resources it needs to support and heal itself.
Toombs County now has a network of churches and organizations that share resources and build off each other's strengths instead of trying to solve every problem on its own. The community has gathered together around the conversation and a common goal of helping without hurting.
"I'm hopeful for the future,†Clint says. "A lot of people are beginning to see what we can do together and that the resources we need are already here.â€