How to Budget for Your Faith & Finances Class
Getting people together always requires financial resources—and Faith & Finances is no different. Thankfully, since volunteers provide most of the labor required for Faith & Finances class, you should be able to run things at a relatively low-cost.
That said, there are some costs that you'll need to plan for, such as purchasing Participant Guides, hosting meals, or providing childcare. You'll need to create a simple budget for your Faith & Finances class and identify funding sources to cover those costs.
Below is a sample Faith & Finances Operating Budget. This sample budget assumes that you hold 1-2 courses per year.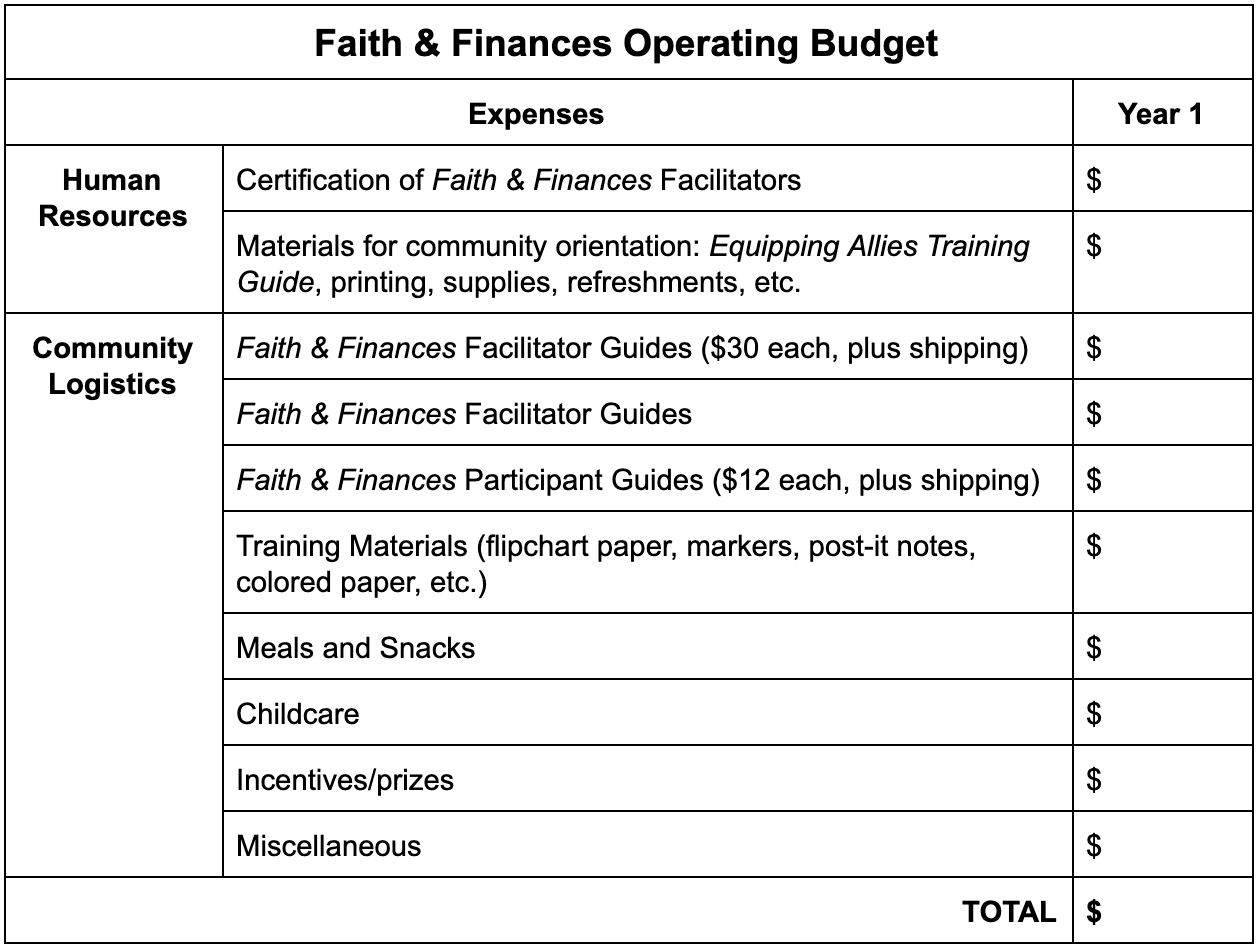 As you create your own Faith & Finances budget, take a moment to think through these questions:
What funds are available? Does your church or organization have a benevolence/missions budget that may be able to fund Faith & Finances? If so, who might you need to meet with about this? If you belong to an organization, where will you get funds for Faith & Finances?
When do you need to submit your budget? If your church or ministry does have money available to fund a Faith & Finances class, make sure you know the timelines for budget submissions, approvals, and disbursements. Plan your class start date accordingly.
How much do you need? The finance team hates vague numbers! Do a thorough assessment of what you already have access to and investigate prices for what you'll need so you can make an informed request.
Where else can you find funds? If your full budget isn't approved, don't give up. Look outside your walls for other community assets that you can tap into. Are there service-oriented affinity groups in your area that can help? An existing communal meal served on Tuesday nights so you don't need to buy food for your class? Is there a local foundation that offers grants for life skills courses?
Who can support this work? If you need to fundraise, who are key individual donors that have a heart for long-term development among people who are poor and a passion for financial reconciliation? How will you approach them for funds?
How will you grow this ministry? What plans do you have for certifying others (even future graduates!) as Faith & Finances facilitators? Could you ask allies or leadership team members to audit the Faith & Finances training course?
Creating a detailed budget for your Faith & Finances class can be intimidating, but we're here to help! Download this free worksheet to help you figure out what materials you'll need for your first class.